Homemade cranberry sauce that has just right sweetness and zing from the fresh lemon and orange peels. Easy enough for everyday meals and the perfect addition to your roast turkey dinner 🙂 
Ingredients: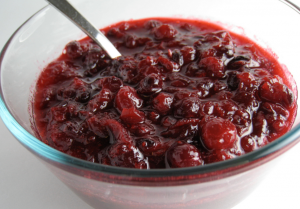 1  Cup of Sugar
1  12oz Bag of Fresh Cranberries (Put 1 Cup Aside)
3  TBSP Fresh Lemon Zest
3  TBSP Fresh Orange Zest
2  TBSP of Water
Directions:
Empty the bag of fresh cranberries into a medium saucepan, (minus  the 1 Cup)

Add the sugar, orange & lemon zest along with the water to the cranberries and cook over low heat. Stir occasionally, until the sugar dissolves and the cranberries are soft, about 10 minutes.

Increase the heat to medium and cook until the cranberries burst, about 12 more minutes.

Reduce the heat to low and stir in the reserved cranberries. 

Cook for about 5 more minutes on low, then turn off and let the cranberries cool to room temperature.