Banana bread is a classic recipe that almost everyone loves. This recipe is a simple and classic recipe that has cinnamon sugar sprinkled on top, I always have bananas left over after a week and this is one way that I like to use them up. This bread freezes very well, so make a few loaves and just take them out when ready to eat 🙂 
*Bake at 350* for 60-70 minutes
*Butter your loaf pans bottoms and sides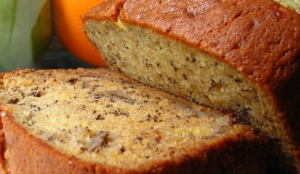 Ingredients:
1- Cup of Butter
1- Cup of White Sugar
4- Eggs at Room Temperature
8- Medium bananas
2 1/2- tsp of Baking Soda
1- tsp of Baking Powder
1/2- tsp Salt
1- tsp Vanilla Extract
2- tsp of all spice
4- Cups of All Purpose Flour
1- Cup of Coarsely Chopped Nuts (optional, toast them in a 350* oven for 10 minutes turing halfway through.  This will bring out the nuts flavor)
Cinnamon Sugar
Directions:
Beat butter, egg and sugar until thoroughly blended.
Add banana and all the other ingredients EXCEPT the flour and nuts
Add flour one cup at a time. You may need to mix by hand when you get to the 4th cup of flour.
Add nuts and stir until completely blended in the batter.
Pour the batter evenly between 2 loaf pans
Sprinkle the tops with cinnamon sugar
Bake at 350* for about one hour or until a toothpick inserted in the middle comes out clean.